You Are What You Absorb: Ingredients to Avoid in Your Products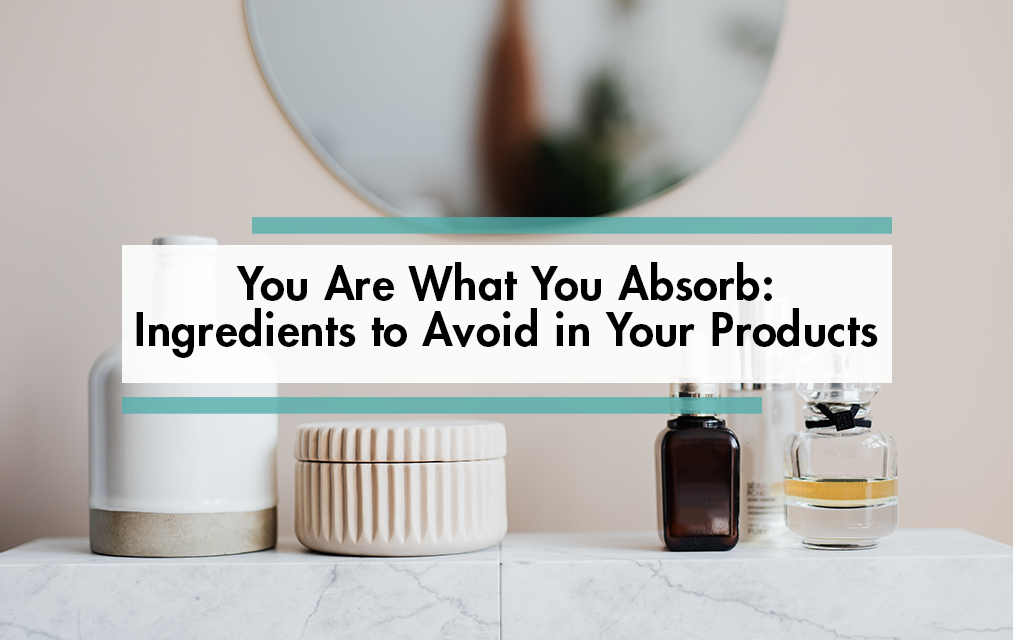 Close your eyes and think about all the products you use on an average day. Chances are lotions, deodorant, soap, cleaning products, makeup, lip balm, and face creams probably come to mind. Now, have you ever thought about what ingredients are in those products? 
While Health Canada has banned or restricted the use of over 500 different chemical ingredients in our cosmetics, we are still very behind the EU that has banned 1,328 ingredients for health and safety concerns (currently-banned chemicals can be found on Canada's Cosmetic Ingredient Hotlist).
Although many ingredients are technically banned—under Canadian regulations that we feel aren't as strict as necessary—not all may even be listed, even though a product may claim to be "all-natural." Some brands might hide toxic ingredients in a "chemical soup" masquerading under the terrifying word "fragrance" or "parfum" —a mix of ingredients where companies can throw in harmful components without listing each individual offender. You may be wondering how this can happen. The shocker here is that under current product trade secret protection laws, many companies find ways to incorporate harmful ingredients. Shockingly, this approach is more common than you'd imagine.
This really makes you think:

how much of those toxic ingredients are actually getting into our bodies

? 
Elva's All Naturals offers affordable non-toxic skincare solutions and non-toxic home products. We don't just say we're all-natural—we maintain our integrity by ensuring we can stand by our claims, keeping up with our research and providing full disclosure on every ingredient and product label we offer. We're part of a more significant movement we call "The Toxic Chemical Rebellion": a growing group of people and companies committed to environmental and social justice by removing toxic chemicals from Canadian consumer goods.
Chemical Absorption
Did you know that we have approximately 5 million pores in our skin?  Similar to the way plants and animals rely on the earth to survive, your body and your home are your ecosystems. Imagine the effects pollutants in our homes have on our bodies if our skin is one of our bodies' most penetrable organs. 
Luckily, Elva's All Naturals offer all-natural products that are all 100% biodegradable, non-toxic and eco-friendly, giving you a greener alternative to mainstream brands that have dominated the market for decades.
Going green with your home, beauty, and skincare products doesn't have to mean spending a ton of money. We've carefully avoided using toxic ingredients in our products and innovated products that will save you time and money in the long run—like multipurpose products that can do several different jobs. Imagine the savings, convenience and peace of mind using one non-toxic household cleaner for all your surfaces can bring.
Start by focusing on the list of "absolutely not" ingredients: the worst offenders in the chemical bunch which harm human and environmental health: 
Avoid These Toxic Ingredients Still Present in Many Labelled "Green" Products 
Phthalates:

Also known as "plasticizers" and often used as a solvent or binding agent. Over time, phthalates can build up in our bodies, resulting in a myriad of health issues from

endocrine disruptions

, damage to reproductive organs and respiratory systems, and even cognitive function damage. 
Parabens:

Often used as preservatives in products. They can act as hormone distributors and are currently being studied for connections to

breast cancer

. Through our independent research, we found that these are not always listed as a component present in floral and herbal waters on "all-natural" product labels, sadly. We became aware that

some ingredient suppliers weren't actually disclosing the presence of parabens without requesting the information from them directly and specifically

. When in doubt, request the Material Safety Data Sheet from your product supplier's ingredient supplier.
Aluminum:
Blocks your sweat glands and is easily absorbed by the skin. Over time, the accumulation can lead to neurological problems such as
Alzheimer's disease
and
cancer
. Tip: aluminum is often found in most drugstore deodorants and antiperspirants.
Artificial fragrance / 'parfum': Most synthetic fragrances found in products are derived from petrochemicals (petroleum-based) that can be very harmful to human health. They can also disrupt hormone activity, reduce sperm count, and cause reproductive malformations. (As mentioned, this ingredient name 'fragrance/parfum' is where the inclusion of other toxic chemicals may be hidden and not listed individually, under trade-secret protection laws.)
SLS/SLES/Sulfates:

Can be used to create the foaming agent in products. They're typically found in toothpaste, shampoo, shaving cream, and body wash. There are many conflicting claims and studies about this ingredient in its various forms and names. These claims surround its environmental sustainability, aquatic toxicity, ability to cause skin sensitivity, increase absorption of other chemicals in a formula (such as parabens), endocrine disruption, neurotoxicity, bioaccumulation, hair loss and even cancer. SLS and SLES have been banned in the EU but not in Canada yet. We suggest avoiding them due to their potential risks. 
Ethoxylated ingredients (ingredients that contain the three letters "-eth):

This includes certain preservatives, polysorbates and SLS/SLES. They're present in a lot of products we use in our daily lives, like shampoo, bubble bath and liquid soaps. The problem is that the process to create these chemicals involves a reaction with

ethylene oxide

, which is known to be highly carcinogenic and can remain as a contaminant in the final product after manufacturing. 
Although we've got the Hotlist in Canada, companies are still allowed to manufacture products using the trade secret fragrance "chemical soup" approach. Unlike other companies, we consider ourselves "militant green" when it comes to chemicals we choose NOT to use out of concern for people and the planet. 
When we did our own research, we were shocked by the shortlist of ingredients we were left with to produce non-toxic, stable and truly all-natural products. We refuse to use toxic preservatives and chemicals linked to harm, so it really required thinking outside the box. It was vital for us to bridge the gap between what is classified as "green" and what's actually safe and 100% natural. To do this, we partnered with some brilliant chemists, mixed a little innovation with some creative thinking(!), and created truthfully green and all-natural formulas that our customers can trust and use with confidence— without fear of harm to themselves, their families or the environment. 
We're not perfect. But we are trying to lead the way. Elva's All Naturals' focus is twofold: ensuring toxic ingredients are nowhere near our products and creating climate-friendly packaging that reduces waste and plastic pollution through offering refillable formats in glass, recycled cardboard and aluminum. We're always looking for new and innovative ways to make our products better by asking ourselves, "how do we take the waste out of this?" and "would this be safe for my loved ones to use, based on what we now know?"
Help you and your family make healthier, more environmentally friendly choices. By educating yourself on the dangers of toxic ingredients and the regulations surrounding home and cleaning products, you can go green—the right way.
 💚
Additional Helpful and Recommended Resources:
Read: "Toxic Cosmetics: Ingredients and Contaminants to Avoid" - an important resource from Beauty Schools Directory on chemicals to avoid and why
Watch: "Toxic Beauty" , an exposé and shocking 2019 CBC Documentary on the effects of harmful chemicals in our personal care products
Read: "Asbestos in Makeup" and "Talcum Powder and Asbestos" - brought to you by The Mesothelioma Center's Abestos.com educational website, on avoiding asbestos in personal care and makeup products
Read: "Talc and Ovarian Cancer" - brought to you by The Lanier Law Firm. This is the firm who secured a $4.69 billion verdict for 22 women and their families in the 2018 winning lawsuit against Johnson & Johnson