The history behind "Elva's Blend Thieves and Thyme Hand Soap"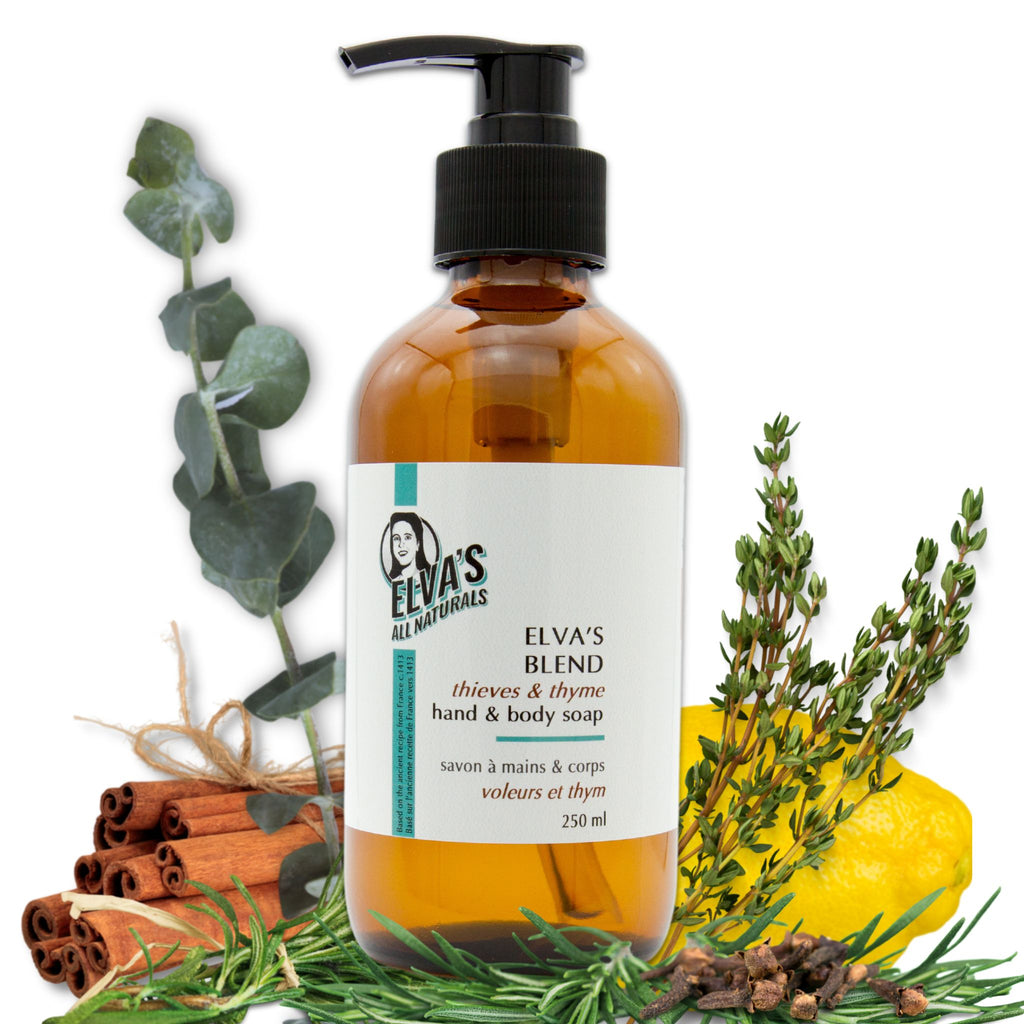 Top notes of cinnamon & eucalyptus make this soap smell divine. I'm so in love with this soap!
The History of Thieves Oil
Are you up for a whacky internet search? Try looking up "the history of thieves oil" to read about the fascinating and macabre tale of the band of 4 thieves who robbed dead bodies during the Plague without getting sick themselves. The story dates back to France in 1413, it's about a band of thieves (spice traders) who would douse themselves, their clothing and their face masks with an herbal concoction they had made and then LOOT dead bodies during the Bubonic Plague, aka the "Black Death". Yuck! (or "Blerch" – that's French for yuck, lol.)
No one could understand why they weren't getting sick as the plague was enormously contagious. After finally getting caught, the story continues that the judge or king so badly wanted the recipe himself that he allowed the 4 thieves to be hanged instead of burned at the stake, in exchange for the recipe. The recipe was then used by medieval doctors (on their clothing and inside their odd "bird beak" face masks – another bizarre internet search btw) when treating the sick. The recipe has been since passed down for hundreds of years and become a classic staple recipe among herbalists and wellness enthusiasts worldwide.
The Thieves Oil Recipe
The basic recipe has several versions, with the most common elements being Clove, Citrus, Cinnamon, Rosemary and either Eucalyptus or Camphor. The earliest versions contained Vinegar, and many contained Garlic as well. (We decided to focus on the main elements because they smell much better in a hand soap!😊)
Elva's Blend Thieves & Thyme Hand Soap contains germ-busting essential oils of Clove, Eucalyptus, Lemon, Cinnamon, Rosemary and Thyme. 🌿 Fast forward 600 years, these essential oils are now scientifically proven to have anti-bacterial, antifungal and anti-viral properties. (See article: "Antimicrobial Properties of Plant Essential Oils against Human Pathogens and Their Mode of Action: An Updated Review", Dec.20, 2016)
Why We Added Thyme to the Recipe
We decided to add Thyme as an important element because it contains the powerful antiseptic thymol; the EPA recently approved cleaning products containing thymol because it was deemed effective to kill the coronavirus SARS-CoV-2. It was also used medicinally and topically in ancient Egypt, Rome and Europe, for everything from curing and preventing poisoning, preventing infection in wounds, to embalming and use in the sacred mummification process. Many hospital cleaners today in fact, contain thymol because it is so effective at cleaning and disinfecting!
This hand soap is made with premium, certified organic and biodynamic ingredients including Avocado & Sweet Almond Oil. It's also pH-balanced, 100% plant-based and made here in Canada.
Contains no SLS/SLES, sulfates, phthalates nor parabens. Vegan, gluten-free and cruelty-free. Also available in 1.5 L sustainable home refill, which also helps to greatly reduce waste.
Wishing you all good health my friends!
xo
people. planet. pure.
Kirsten